Jan Duga – Principal Tuba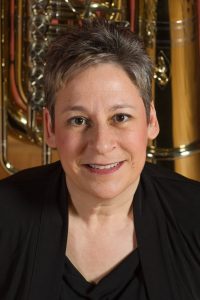 Jan Z. Duga is a freelance tubist and educator in the Washington, D.C. metropolitan area. Originally from Columbus, Ohio, Jan served in The United States Air Force Band, Washington D.C., until she retired in 2013 as a Chief Master Sergeant after 30 years of service. Travelling to all 50 states, she participated in the 50th Anniversary of VE-Day in Moscow, Russia in 1995 and in 1996 performed at two International Military Tattoos in Stockholm, Sweden and Oslo, Norway.
Jan graduated from The Ohio State University in 1980 with a Bachelor of Music Education degree and a Master of Music degree in solo tuba performance from Arizona State University in 1982. Her teachers include her father, Jules Duga, Robert LeBlanc, Raymond Nutaitis, Arnold Jacobs, Michael Bunn and Paul Krzywicki. Prior to joining the Air Force, she was a music educator in the Chillicothe, Ohio public school system.