Jan Duga | Principal Tuba
Jan Duga | Principal Tuba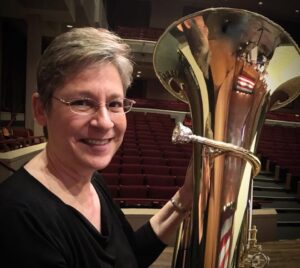 Jan Z Duga is a freelance tubist and educator in the Washington, D.C. metropolitan area. Originally from Columbus, Ohio, she was the first female tubist to win a position with any DC-based premier band as a member of The United States Air Force Band, Washington D.C., until she retired in 2013 as a Chief Master Sergeant with 30 years of service.
Jan is a founding member and serves on the International Women's Brass Conference (IWBC) Board of Directors. She was honored at the 2012 conference with the Lifetime Service Award. She earned a Bachelor of Music Ed and a Master of Music in Solo Tuba Performance from The Ohio State University and Arizona State University, respectively. Jan studied with her father, Jules Duga, Robert LeBlanc, Raymond Nutaitis, Arnold Jacobs, Michael Bunn, and Paul Krzywicki. Before joining the Air Force, she was a music educator in the Chillicothe, Ohio, public school system.
Jan has appeared as a featured soloist, clinician, and adjudicator at the International Tuba Euphonium Conference, the IWBC, and the U.S. Army Band Tuba/Euphonium Workshop and has performed with Monarch Brass and the Athena Brass Band at several major brass festivals and music conferences. She is the principal tuba with the Manassas Ballet Theatre Orchestra, the Arlington Philharmonic, the Virginia Grand Military Band, and the Capital Wind Symphony. She also performs with the Brass Band of Northern Virginia and various brass quintets.