Zachary West | Co-Principal Clarinet
Zachary West | Co-Principal Clarinet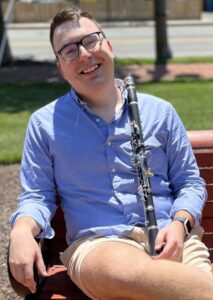 Equally at home in both traditional and contemporary ensembles, Zachary West has been heard in performance throughout the United States. A devoted chamber musician, he is co-founder of The Horizon Series and has been featured in intimate performances with members of the Cleveland, Pittsburgh, and Toronto orchestras as well as the award-winning Belka and Cavani String Quartets.
As an orchestral musician, he has performed under the baton of several of the world's finest conductors, including Jane Glover, Yoel Levi, JahJa Ling, and Robert Spano. In the summer of 2023, Zachary was chosen as one of seven finalists for the ICA Orchestral Audition Competition at the 50th Anniversary International Clarinet Association festival in Denver, Colorado, recognizing those on the cusp of a burgeoning orchestral career.
An alumnus of the Sarasota and Aspen Music Festivals, Zachary received a Master of Music degree from the Indiana University Jacobs School of Music in the studio of Israeli Philharmonic clarinetist Eli Eban, and a Bachelor of Music degree from the Cleveland Institute of Music in the studio of Franklin Cohen, Principal Clarinet Emeritus of the Cleveland Orchestra.